POST-WEBINAR UPDATE: If you registered for the webinar but were unable to attend due to the 100 participant limit (or other technical reasons), we deeply apologize. We did not know about the limit nor that this would happen.
Amy is finished editing the webinar recording, and tomorrow (5/19/20), Michelle will begin e-mailing the link to everyone who registered for the live broadcast via PayPal.
Be sure you check the e-mail address you used to register, and also be sure you check your spam folder since there will be a link in the e-mail, which will be coming from our AWFS G-mail account. (There were over 200 registrants, and Michelle is sending these e-mails out manually and individually, so it may take a few days to receive yours.)
If you registered via Patreon, simply go to our A Word Fitly Spoken Patreon page and click on the post at the top entitled "Discerning Women Webinar Recording Link" to obtain the link.
The webinar recording is not being posted publicly, but if you would like to watch it, we will send you the private link as a thank you gift for your one-time or monthly PayPal or Patreon donation of $10 or more.
Again, our apologies for the technical difficulties with the webinar live broadcast.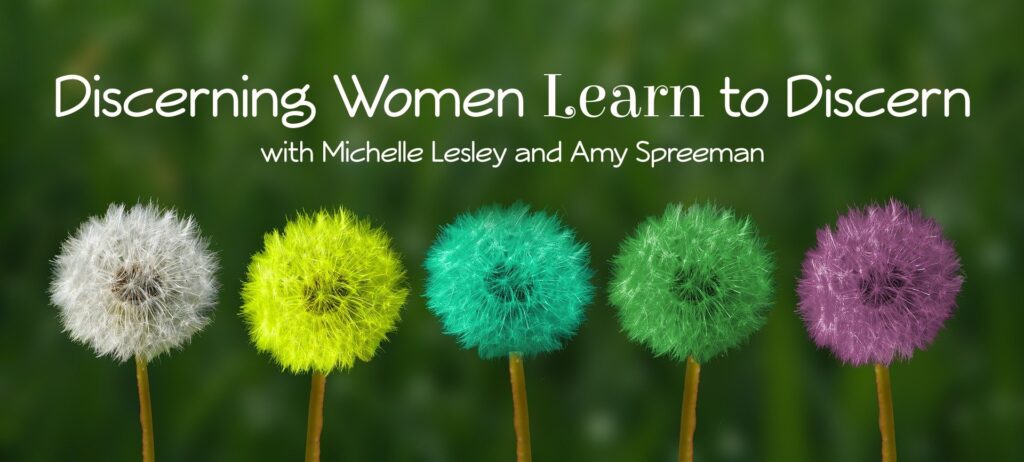 Are you a discerning woman? Whether you're just starting to learn to discern or you've had your "powers of discernment trained by constant practice," we think you'll find this Zoom webinar edifying and informative. Join Amy Spreeman and Michelle Lesley as we examine the Scriptures that pertain to discernment, contemporary false teachings to watch out for, addressing false teaching with loved ones and leaders, and more!
Date: Thursday, May 14
Time: 8:00 – 9:30 p.m. Central
Registration: To register, simply make a one time or monthly gift of $10 or more to A Word Fitly Spoken at PayPal or Patreon.
To make a one time donation via PayPal, click here. The login information for the webinar will be provided once your donation is complete. Be sure to save the page with the login information until it is time to log in on the 14th.
To donate $10 or more on a monthly basis via Patreon, click here. Once you have made your donation, click on the post entitled Discerning Women Webinar Login Info (you may have to refresh the page).
If you're unable to attend live, the webinar video will be available to future PayPal and Patreon donors as a thank you gift.
Techhy Stuff: Technology can be difficult to navigate, especially if it's in an unfamiliar format. If you find technology to be a bit of a challenge sometimes, we highly recommend practicing with Zoom (the app or the website), your speakers, your monitor, or any other equipment before the webinar. You may also want to have someone standing by during the webinar to help with any technical difficulties or questions you may experience. Amy and Michelle will not be able to assist with technical difficulties during the webinar.
If you have registered through PayPal or Patreon and, for some reason, have technical difficulties during the live broadcast of the webinar, contact us and we will make sure you get a link to the recording afterwards.
We look forward to sharing God's Word with you!